Post by theironbat on Mar 4, 2011 0:47:49 GMT -5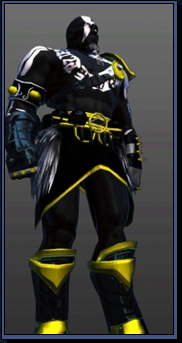 Tyr stands upon the edge of the frozen tundra...a fog upon the cliffs edge to a chilly tomb...
"I have lost...I have gave...and I have grown bitter of these Gods and mortals....my way has proven to be...meaningless...and my life...worthless.."
Even a mighty god of war can weaken once love has been taken from him. His only wife, dead and soul beyond reach.
Tyr was once ruler of the Gods, with a strong fist, and a mind of fairness and right doing. He would set an image all men should follow. But what is a man, let alone a God, without love.
It all began to go down once he had bound Fenrir, and losing his right hand. Not to his knowledge, that he found that losing his right hand had taken away some of his Godly strength, just as Loki wanted.
In Tyr's weakened state, Loki took advantage of Tyr's wife, and defiled her. Not wishing to carry the evil of Loki's seed and to allow her husband to live with such shame, She killed herself, causing her soul to be cast away.
Tyr, wishing revenge, went after Loki. Even in his weakened state, Tyr would be more then likely able to crush Loki. But Loki ranted "It is not written my fate shall be sealed by you."
To which Tyr enraged responds, "Damn fate, these evils done to me were not written, so I shall see all fate not written." As he tried to go after Loki, the forces of those stronger then the Gods, unknown to all, flashed and stopped Tyr, but threw Loki to be sealed away by Thor's hand.
Tyr feeling unable to fight the powers that make the fate as is, drew into seclusion. Giving up his seat of power, He began a dead mans journey, which led him to this cliff.
"Am I not allowed to seek the vengence that is mine, or am I doomed to wait till Ragnarok before all else can die with me...
Zisa...I miss you, and hope to find you again..."
He plunges himself into the cold seemingly bottomless pit...to disappear from this existence...
********Time goes by*********
The Goddess Frigg comes to this cliff, so much time having gone by.
bowing down on her knees, she uses the powers she has, asking from the world and great ones..
"Arise....Please arise Tyr, you are needed..."
Rumbling begins, the very ground shaking to fall apart, the winds twisting and turning till exploding upward with a large jolt of of power striking down before a beam of light shooting up, Tyr flying up from the bottom to slam right infront of Frigg as she looks up in awe.
Tyr reaches down with his large hand, gripping her collar and lifting her up, "You dare rise me from my eternal slumber! What do you feel makes you worthy to disturb me?!"
Frigg, "Tyr, please listen, your power is needed to restore balance. Odin is losing power, and Thor is barely able to hold the balance anymore..."
Tyr, "Odin? Thor? what makes you think I care for any of these 'Gods?' I could care less about this world." He drops Frigg, and begins to turn to head back to where he lay, before Frigg grabs his wrist...
Frigg, "Tyr...you can fight fate..seek your vengence, and get back at Loki...". Tyr stops and turns around...frigg continues, "The futures I am able to see, have become blurred. Be it the actions of Loki, or other gods, but the paths of fate have become blurred...It appears we travel into the unknown..."
Tyr stands and stares off into the distance, "If this be so...could it be possible for me to get Zisa back?"
Frigg, getting a down look upon her face, "It...is possible...but first we need you Tyr...I need you..." She places a hand upon his chest.
Tyr takes her hand off his chest, "Zisa is the woman I love...and the one I need...That has not changed still Frigg...but tell me...with your ability to see, all that time ago...did you know?"
Frigg looks away, "I had hoped that I could have you still...one day."
Tyr scoffs, and begins to walk away, Frigg yelling out, "What shall you do Tyr?"
Tyr turns back and says, "Make fate my own...and kill all those who get in my way..."
TO BE CONTINUED.....
_______________________________________
First installment to the coming of Tyr

let me know what ya think, and any input would be fine, I dont mind criticism. Of course, you have to have know a little norse mythology to get it all
I can explain further if ya like right here